Pumpkin Carving Ideas That Will Take First Place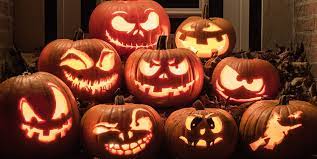 Pumpkin Carving Ideas That Will Take First Place
    Pumpkins are used for so many things, and one of those things is carving them during Halloween time! This activity is a wonderful tradition, but it's time to change from a classic, toothy smile to some of these eight fun and creative pumpkin carving ideas!
1. Baby Yoda
  This is a great pumpkin carving idea for any of you Star Wars fans. To do this design you need a pumpkin, and a carving knife. (Make sure you have parent's permission or supervision.) If you're artistic you can free hand it, or you can print a stencil. 
2.Crescent Moon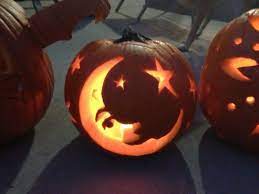 This idea is simpler than the others, but still fun for autumn! After you carved stars and a moon add a candle in it to make the moon and stars glow!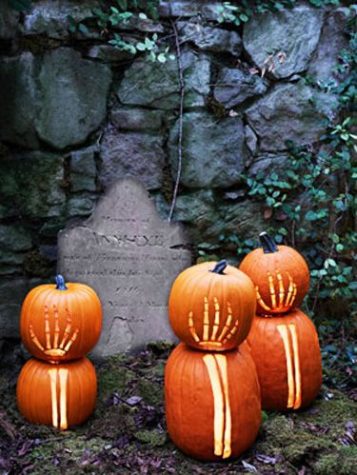 3.Skeleton Hands
  This idea requires two pumpkins to make the long, bony skeleton hand. First, cut off the stem on the bottom pumpkin. Then, carve the bone on the bottom and top pumpkin. Finally, place the top pumpkin on top of the bottom, and voila, a skeleton hand!
4.Trick or Treat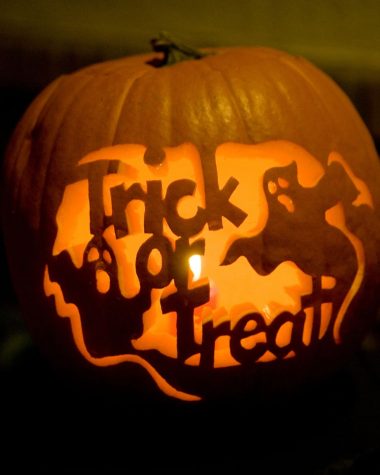 For this pumpkin carving, you can either free hand it, or print out a stencil. The design of this one has the words, "Trick or Treat" with two ghosts. This is a cool design, but it is a bit more complex with the words.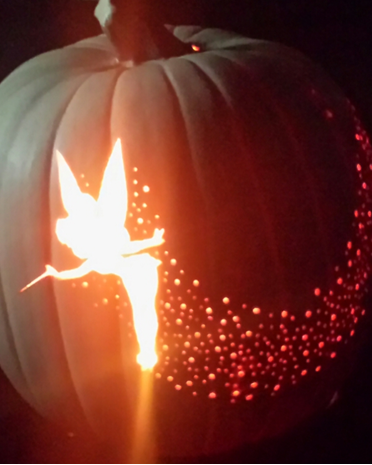 5.Tinkerbell
   This design is perfect for Disney fans. To make this carving, print out a stencil of Tinkerbell, and carve it out. Then, either carve dots going around her with a small knife, or make the dots with a sharp toothpick (as shown in the picture.) Finally, to add the magical effect, add a candle inside the pumpkin to light up the carving.
6.Witch's Hat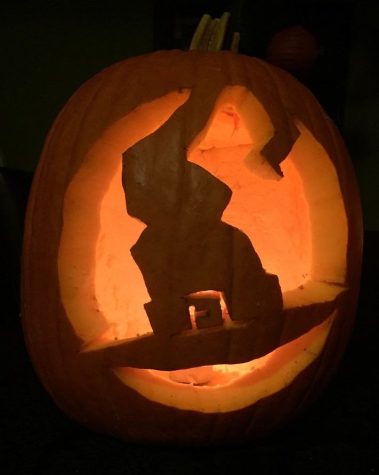 For this spooky design you can get a stencil of a witch's hat, or go out of the box and do it free hand. I really like this design because you can be creative with it because you could make the hat all crooked, or nice and straight. And to top it off, add a light or candle inside the pumpkin.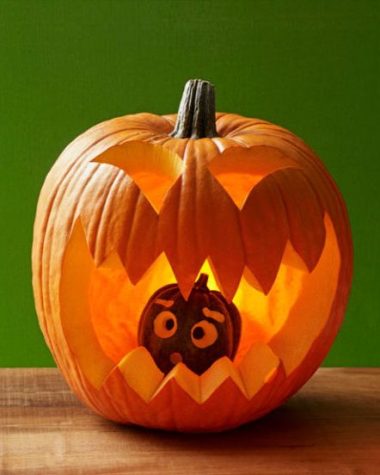 7.Gobbled Up
   This carving is very unique and creative because there are two pumpkins, and ones inside of the other! To make this carving you need two pumpkins, one normal sized, and the other a mini pumpkin. You first carve the bigger pumpkin, and make it look scary. Then, make the small pumpkin look scared, place it inside of the bigger pumpkin, and you'll quickly set a spooky scene.
                                                                                                                        8.Vampire Carving
For this vampire pumpkin you need two pumpkins, one white and another slightly large one of a different color. First carve a cute face in your vampire. Then cut off the second pumpkin for the hair and put it on top. To finish this design, add fangs that are made out of paper, or you can carve them and a red tip to look like blood.
  What did you think of these pumpkin carving ideas? Which one is your favorite? Suggest any other ideas for carving you have done in the past.