Crust-to-Crust Comparison: Domino's vs Pizza Hut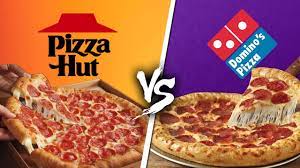 We all love it on a Friday night when we order pizza. But there are two top pizza places that are up for grabs for that order, Domino's and Pizza Hut. So the main question is which is better?
What might be at the top of the list is how much it actually costs to buy the food. The price of a large pizza with 2 toppings is about $19.99 (not including tax)at Domino's, but for a large pizza with 2 toppings at Pizza Hut, it's about $7.99 (not including tax). So if you're looking for a cheap pizza, Pizza Hut wins.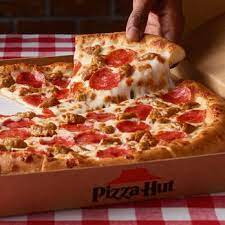 So as far as the toppings go, both franchises give you many options, including meats and veggies. But overall it can depend on how they are put together on the pizza. But the most common test for the toppings is pepperoni. Even though both franchises most likely get their supplies from the same place, each franchise might request it differently and that makes a big change. According to First we eat, Pizza Hut covers approximately 62.34% of the pizza while Domino's only covers about 40.13%. So the winner for toppings is Pizza Hut.
The best thing is the taste of the pizza. Pizza Hut has a pretzel crust, but it has way too much salt. Domino's gives a better taste, even though Pizza Hut does have a bigger pizza. So if you like the bigger pizza, you'll wanna choose Pizza Hut, but if you're more of a flavor person, Domino's is a clear winner!
Finally, the sauces that each franchise has helps the overall taste. Pizza Hut doesn't have that much sauce on their pizza, but they do have a lot of crust. According to First we eat, the sauce tastes like burnt tomato paste and it's made up of mostly tomato paste, water, and salt. Domino's on the other hand, is almost the same, but there is more sugar included, and there is more sugar than salt. It makes the pizza sweeter. Additionally, the pizza sauce and its dips are a wonderful addition to the pizza. But the unfortunate thing is that Pizza Hut has limited dip types, whereas Domino's has a very wide variety. So, Domino's wins for sauce.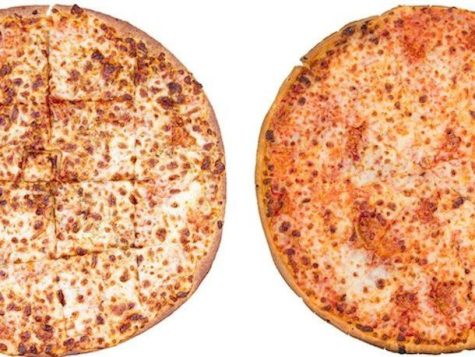 In conclusion, both of these franchises have pros and cons, but it really depends on what you like about the pizzas. Which one would you pick? Tell us in the comments!
Links: