Battle of the Tacos: Taco Bell vs Del Taco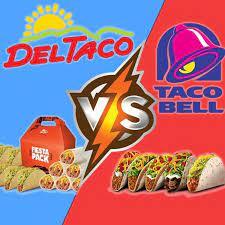 Tacos have been around for centuries. Tacos are just that one food that everyone loves. Whether it's taco Tuesday or not, this is the battle between two of the biggest Mexican food chains out there. Get ready and get your tacos!
Del Taco: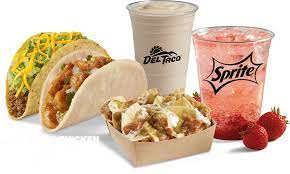 Del Taco started back in 1964 when Ed Hackbarth and David Jameson open up their taco shop in Yermo, California. On the first day, they made about $169 which is equivalent to 900 tacos. That's a lot for one day! In the 1970s, Del Taco was thriving. In 1977, there were 50 restaurants and by 1978, there were 100. The menu grew, too. In the 1980s, some of the restaurants became 24/7 to adapt to the new 24/7 lifestyle. In the 1990s, Del Taco set the stage for extreme growth by launching a series of initiatives to improve the total customer experience and grow the brand's image, including a new logo design. By 2006, Del Taco nearly doubled in size and opened the 500th restaurant in 2008. An exciting new dessert was also introduced to the menu that has since become a fan favorite: Caramel Cheesecake Bites. Additionally, the Del Taco Super Special Show was launched, treating our fans to a humorous take on our brand. 
Del Taco Pros and Cons:
Pros: 
Some pros about Del Taco include that they have food that is only 69 cents which is an amazing price for a taco, while also they very different drinks there too like a strawberry sprite, mini milkshakes.
Cons:
Some cons of Dell Taco include that many of the food items are oversized and also fried, cheesy, or contain beef which can be fattening If you eat too much. Also, some of their food can be very pricey like the Signature Taco Salad is $5.49, which is a lot for a salad.  
Taco Bell:
While McDonald's was opening its first location, Taco Bell's founder, Glen Bell followed him in the same town – San Bernardino, California, in 1954. At that time, the restaurant was known as Bell's Drive-In and Taco Tia which morphed into the Taco Bell name in 1962. Now, it's the world's largest Mexican fast-food chain. Then a retired L.A. policeman named Kermit Becky, becomes Taco Bell's first franchisee, opening a restaurant in Torrance, CA. Taco Bell pioneers the concept of linking fast-food marketing promotions with major movie blockbusters. Its "Batman" promotion is a huge success, placing Taco Bell in the spotlight. Around 1990, Taco Bell launched the new 59¢-99¢ value initiative. 
Did you know that Taco Bell sponsored the first ESPN X Games? Also, did you know that in 2004, Taco Bell introduced the Mountain Dew BAJA BLAST!  And around 2012, Taco Bell helicopters donated 10,000 Doritos Locos Tacos to the remote town of Bethel, Alaska.
Taco Bell: Pros and Cons 
Pros: 
Some pros for Taco Bell are that they have a dollar menu where you can get things such as normal taco, cheesy bean, rice burrito, spicy potato soft taco, cinnamon twists, and cheesy roll-up. Also, they have a vegetarian/vegan option and the starting price is only $1.00.
 Cons: 
Some cons of Taco bell are that many of the food items at Taco Bell are oversized and also fried, cheesy, or contain beef which can be fattening if you eat too much.
But wait… Didn't your mom tell you not to be swayed by the opinions of others? Let us know which Mexican fast food joint is your favorite.