Holiday Houses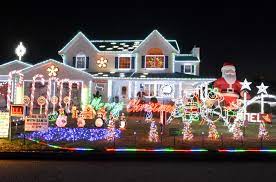 Top 3 Christmas Light Houses to Visit
There are so many traditions near Christmas time and one of the most famous ones is looking at Christmas lighthouses.  You can make memories and it is also free!  Here are the top three Christmas decorated houses only up to 20 minutes away from Crown Hill that you can go visit with friends and family. 
Kraklow Family Christmas Lights  (33099 Sage Ct, Temecula, CA 92592)
This is one of my favorite Christmas houses to visit because I live right up the street, so we visit it at least two times before Christmas and the best thing is it's up so early that you can visit it so many times. Another really cool thing about this house is there is music on the radio that matches up to the dancing lights on the house. 
Bainbridge Circle Holiday Extravaganza  (Bainbridge Circle Temecula California)
This is a fun street with the same music playing from every house because all the decorations are on almost every house on the street. As you can see above, they decorate everything, even their cars! My personal favorite is the one with Jack Skellington on the top of their roof. Also, if you get lucky, you get a candy cane from one of the house owners. 
Shale Circle next to Redhawk  ( Shale Circle Redhawk Temecula California)
This house is my favorite because there is a path that you can walk through all the way through their grass back into their driveway. This is a great one for younger kids because it has a snowman that blows kisses and fake snow shoots into the air. If you're lucky, there are mini candy canes at the end of the walk through their yard. 
           I hope you have fun with your friends and family going to see Christmas lights. Which one is your favorite?  What other houses would you recommend?  Happy Holidays TMS Bobcats!