Amazing Books You Won't Want to Miss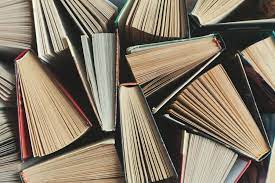 By Johanna Marx
(Image credit: The New York Times)
With books, you can travel anywhere, anytime, and into anyone's place, without actually having to go anywhere. To help you unlock this magical world of reading, here are some book suggestions especially for middle schoolers!
Invisible Emmie by Terri Libenson
(Image credit: Amazon.com)
In this funny and sympathetic graphic novel, you can step into the shoes of the main character, Emmie. With her silly thoughts and remarks, you'll be transported right into middle school with her, and feel how it feels to be shy and lonely.  Follow her along as she overcomes her fears and gains the middle school life she wants.
If you like this book, also check out other fun graphic novels by Terri Libenson: Positively Izzy, Just Jaime, Becoming Brianna, and Truly Tyler.
The Boys' Book Of Survival by Campbell Guy
(Image credit: Amazon.com)
This fun book, which is definitely not only for boys, is full of adventures and "survival tips."  You can read about how to survive a tornado, a duel, a shark attack, and much more! There are also activities you can try to prepare yourself for if you do ever happen to be in one of those situations.
Spilling Ink by Anne Mazer and Ellen Potter 
(Image credit: Amazon.com)
In this book, you will learn practical tips for writing great stories. With this handbook, you can get the power to face the blank page and come out victorious by writing. Two writers tell you about techniques and stories that will help you and make you realize that you can write amazing books, no matter how young you are!
 Dandelion Wine by Ray Bradbury
(Image credit: Amazon.com)
In this beautifully crafted book, you are transported to the summer of 1928; a "vintage season for a growing boy." It's a magical, timeless classic that perfectly captures the sweet freedom of summer when you are young. Its beautiful descriptions and heart-felt stories, written by the incomparable Ray Bradbury, are sure to make it one of your favorite books.
Tesla's Attic by Neal Shusterman and Eric Elfman
(Image credit: Amazon.com)
Fourteen-year-old Nick moves into an old house his family inherited. In the attic, there are all sorts of strange antiques that he decides to sell at a garage sale. He soon realizes that all the items have powerful properties that the genius Nikola Tesla left behind. He must get all these powerful and mysterious creations back, but there will be lots of challenges and dangers in his path… 
Have you read any of these books? What books do you like? Tell us in the comments below!
Sources: