We all love Starbucks but we don't love the price. So, why not make it at home? Here are some Starbucks drinks you can make at home!
Pink Drink: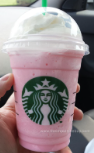 Ingredients: 1 ½  cup Coconut milk, strawberries, 1 cup green tea, and ice 
One of Starbucks's most popular and beloved drinks is also very easy to make on your own. You only need coconut milk, strawberries, green tea, and ice. Then steep and stir in the ingredients. Then blend until smooth.
Strawberry Acai Refresher: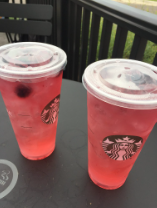 Ingredients: 2 tablespoons strawberry powder, 1 teaspoon acai powder, 1 ½ cups water, plus 2 tablespoons, 1 cup white grape juice, 1 tablespoon passion fruit puree, ½ cup green tea, 2 tablespoons simple syrup
If you want a refreshing drink then this one is for you! First, add the strawberry, acai powder, and two tablespoons of water to a large container. Then microwave for 15-30 seconds until powder is dissolved. Add white grape juice, passion fruit puree, green tea, and syrup, and stir to combine.
Iced Cinnamon Dolce Latte: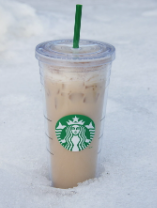 Ingredients: 3 dashes of Cinnamon, 6 oz coffee, 4 oz milk, 1 tsp syrup
This delicious latte is very expensive so why not make it at home? First, add the syrup at the bottom of the glass. Then fill with ice, pour milk and coffee into the cup, and stir.
White Chocolate Mocha:
Ingredients: 4 tbsp White chocolate, sugar (optional), 1 cup milk, ½ to 1 cup of coffee
Have you ever wondered if you can combine white chocolate into a delicious coffee? Then, this drink is for you! First, chop up the white chocolate, then add your milk and place it in the microwave for 5 seconds at a time until the chocolate is melted. Stir it then add a coffee of your choice. Or if you want to make it a frappuccino you can blend it with ice.
Chai Latte: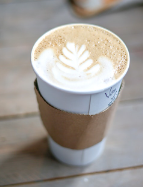 Ingredients: 1 cup Milk, 2 tsp Syrup, 1 ½ cup Black tea, Cinnamon
This delicious warms the body soul and heart. So why not make it? First, heat the milk in a pot for a minute and 30 seconds on medium heat and steep the tea. Then, add cinnamon and stir. You can top it off with whipped cream and maybe some more cinnamon.
Those are some Starbucks drinks to make at home. Will you make any of these? Leave a comment!