From cookies to ice cream, everyone loves a sweet treat, but being able to make them at home is even better. Here are three treats to try this fall that you can make at home.
Chewy Peanut Butter Chocolate Chip Cookies
If you like peanut butter and chocolate, these chewy peanut butter cookies
are perfect for you.
1 cup packed brown sugar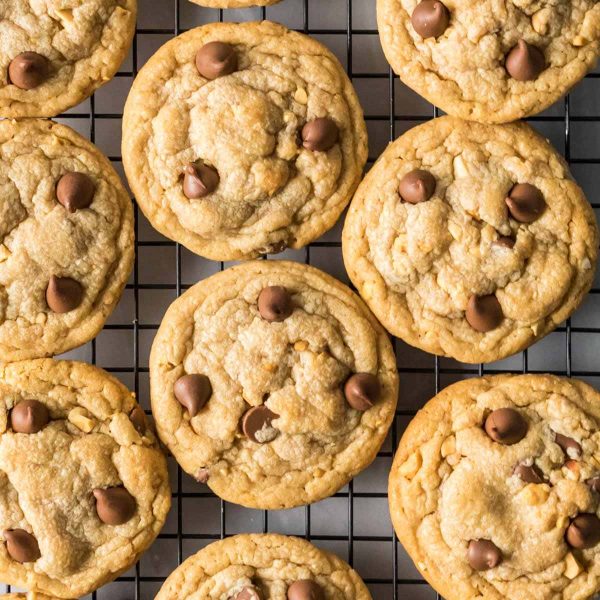 ½ cup white sugar
½ cup butter softened½ cup peanut butter
2 eggs
2 tablespoons light corn syrup
2 tablespoons water
2 teaspoons vanilla extract
2 ½ cups all-purpose flour
1 teaspoon baking soda
½ teaspoon salt
2 cups chopped semisweet chocolate.
First, preheat the oven to 375 degrees F (190 degrees C). Next, cream sugars, butter, and peanut butter in a large bowl until smooth. Beat eggs one at a time, then stir in corn syrup, water, and vanilla. Combine flour, baking soda, and salt in a separate bowl; stir into the peanut butter mixture. Fold in chocolate chunks. After that, scoop 1/4 cup portions of dough 3 inches apart onto ungreased baking sheets. Now bake them in the oven until the edges are golden, 12 to 14 minutes. Allow the cookies to cool for 1 minute before transferring to wire racks. Enjoy!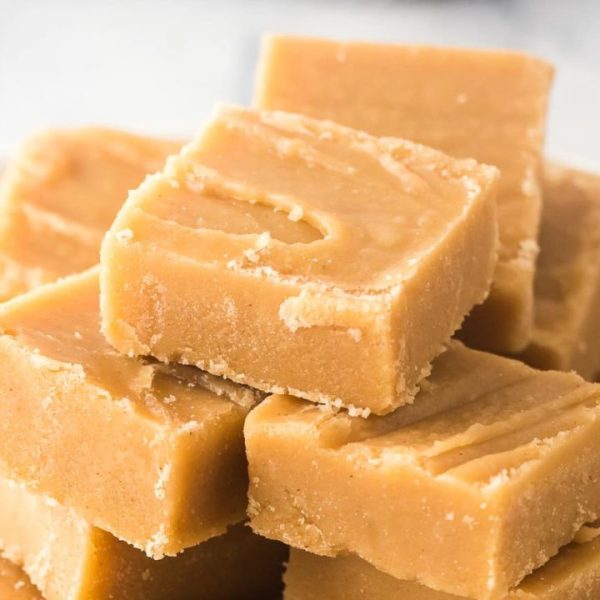 Peanut Butter Fudge
Here's a recipe for those who like peanut butter but could be better bakers. This peanut butter fudge doesn't require many ingredients or much time.
½ a cup of peanut butter
¼ cup of maple syrup
2 sheets of parchment paper.
Combine the peanut butter and maple syrup in a bowl. Pour the mixture onto a single sheet of parchment paper, take the second sheet of parchment paper, and flatten it. Finally, put the tray into the freezer and wait about 10 minutes or until hardened. Then, snack away!
Brookies (Brownie Cookies)
Hmmm. What to make? Brownies or cookies? Well, how about both? These delicious treats are the perfect thing if you're indecisive.
½ cup of softened butter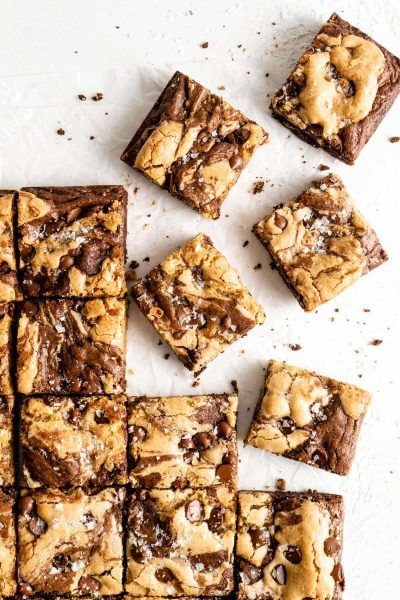 ½ a cup of light brown sugar,
¼ cup of white sugar,
½ a teaspoon of vanilla extract,
1 large egg
1 ¼ cups all-purpose flour
½ a teaspoon of salt
½ a teaspoon of baking soda
1 cup of semi-sweet chocolate chips
1 cup of white sugar
½ a cup of melted butter,
1 teaspoon of vanilla extract,
2 eggs,
⅓ cup of cocoa powder,
½ a cup of all-purpose flour,
¼ teaspoon baking powder
⅛ teaspoon of salt.
Now, to put everything together. First, preheat the oven to 350 degrees Fahrenheit (175 degrees Celsius), and grease a 9×13 inch baking dish. Next, the cookie layer, beat butter, brown sugar, white sugar, and vanilla extract in a bowl until creamy. Add the egg and beat until light and fluffy or for about 2 minutes. After that, mix in the flour, salt, and baking soda. Mix it slowly until the dough is combined. Mix in the chocolate chips. Then, spread the dough in the baking dish and set it aside. Now, for the brownie layer. Put the sugar, butter, and vanilla in the bowl and mix, then add the eggs. Stir in the cocoa powder until the batter is well mixed. Then mix in the flour, baking powder, and salt until the batter is completely mixed. Pour the batter into the dish over the cookie layer and spread it evenly. Now, put the dish in the oven for 20-25 minutes or until a toothpick comes out clean. Let it cool completely, then cut and enjoy!
Pumpkin Bars
It's Fall. Let's face it. Fall is for pumpkins. Pumpkin bread, pumpkin pie, pumpkin spice coffee. So here's a pumpkin bar recipe for the seasonal people.
1 (15 ounces) can of pumpkin puree
1 ⅔ cups white sugar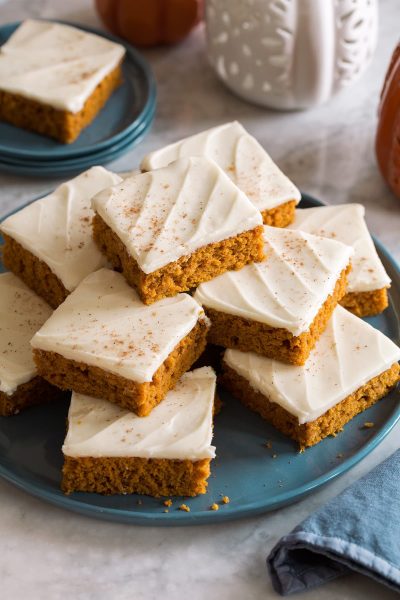 1 cup vegetable oil
4 large eggs
2 cups all-purpose flour
2 teaspoons ground cinnamon
2 teaspoons baking powder
1 teaspoon baking soda
1 teaspoon salt
First, preheat the oven to 350 degrees Fahrenheit (170 degrees Celsius). Next, mix the pumpkin, eggs, sugar, and oil, with an electric mixer until well combined. After that, sift the flour, salt, baking soda, baking powder, and cinnamon in a separate bowl. Now mix the dry mixture into the wet ingredients until thoroughly combined. Now, spread the batter evenly into an ungreased 10×15-inch jelly roll pan. Bake it for about 25-30 minutes or until the cake bounces back when gently pressed. Then, take it out of the oven and let it cool. While waiting for the cake to cool, make the frosting. Beat the butter and cream cheese until smooth, then add the vanilla. Then, add the confectioner sugar a little at a time, mixing until smooth. Now, spread the frosting over the cooled cake and cut it. Enjoy!
For more fun recipes, click here!
Links
Chewey Peanut Butter Chocolate Chip Cookies
Peanut Butter Fudge
Brookies (Brownie Cookies)
Pumpkin Bars