TVHS Student Walkout: Why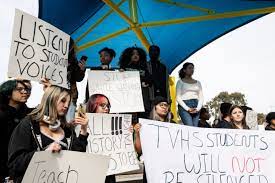 On January 13, 2023 over 200 students walked out of third period to protest in Temecula Valley High School. They stood outside by the Ronald Reagan Sports Park and peacefully objected, some held signs, others used their voices. So what caused them to do this?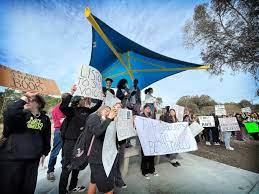 Students were protesting because the district decided to ban the teaching of Critical Race Theory, which is the understanding of how racism influenced our laws today. A vote was held in the Temecula Unified School District, and they decided with a 3-2 vote to ban teaching this. The students were not happy with this, and decided to plan a walk out, which is when many students get up and simply walk out of their classrooms to protest.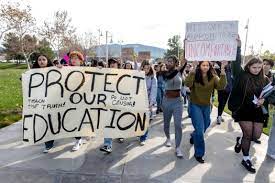 TVHS wasn't the only school to do this either. Great Oak High School and Chaparral High School walked out too. None of the schools in Temecula teach Critical Race Theory, and it's a big deal. These students want to make sure other kids know that racism is a deeper problem and is embedded in many of our social structures. People's biased opinions are shaped from years of historical prejudice. Many students are outraged and walking out seemed like the best choice to show that they will not be silenced.
So what do you think? Should the school board ban Critical Race Theory? Leave a comment! 
Sources: https://www.edweek.org/leadership/what-is-critical-race-theory-and-why-is-it-under-attack/2021/05
https://www.pressenterprise.com/2023/01/13/temecula-students-walk-out-to-protest-critical-race-theory-ban/