Mardi Gras Q&A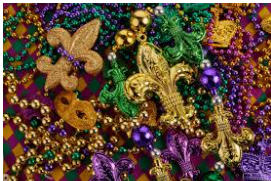 This year, Mardi Gras falls on Tuesday, Feb. 21, 2022. It's a holiday celebrated in many ways.  They celebrate big , in many places across the world, including France, Italy, and the United States. 
What is it?
Mardi Gras is a festival also known as Fat Tuesday or Carnival. In New Orleans, Louisiana, people have parades, throw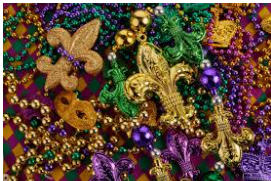 beads, and have King Cake. The 
Mardi Gras colors are purple, gold,
and green, and some celebrations last
from three days to a week!
When did it start?
It started several thousand years ago, as a spring festival in Europe. The French called it Mardi Gras for the first time, because Mardi means "Tuesday" and Gras means "fat" in French. Fat Tuesday is the Tuesday before Ash Wednesday, the start of a fast called Lent.
 Who brought it to America?
Two French explorers, Pierre Le Moyne d'Iberville and Sieur de Bienville, landed in America on their land near modern-day New Orleans, Louisiana, and called it Point du Mardi Gras. They brought their celebrations across the sea, and it stuck.
How can I celebrate Mardi Gras?
People see parades, wear beads, dress up in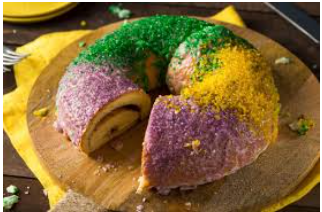 masks and purple, gold, and green clothing. 
They also eat King cake, which is 
a round, cinnamon roll-type cake with 
colorful icing or sugar. It also usually has a baby or other trinket inside. Whoever gets the trinket in their slice of cake must bring the next King cake.
Mardi Gras is an awesome holiday that gathers many people together to celebrate the coming of spring and has delicious desserts, festive decorations and thrilling parades.
 Sources: