Did you know cupcakes were invented in 1796 by a woman named Amelia Simmons? Here is the Best Cupcake Recipe for this September! This is a vanilla cupcake recipe with whipped cream frosting. This recipe takes about 8 minutes to prep, and 22 minutes to bake. The frosting takes about 7 minutes to make. The cupcake recipe makes enough batter for about 12 cupcakes.
Ingredients: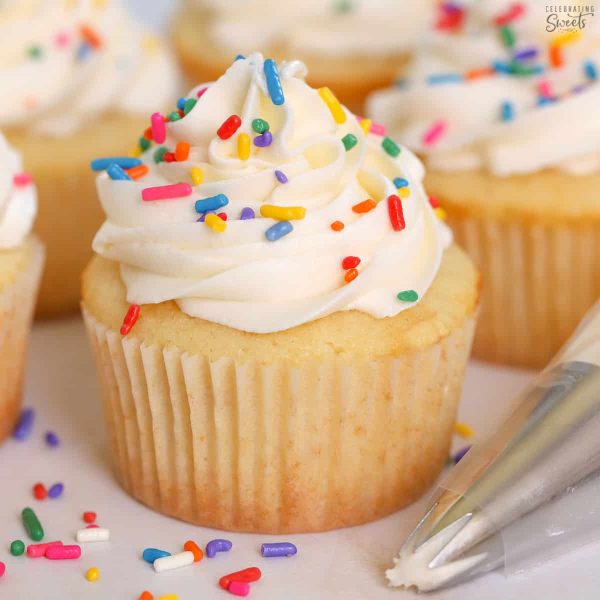 1 ¼ cups of all purpose flour
1 ¼ tsp of baking powder
½ tsp of salt
½ cup of unsalted butter (softened)
¾ cup of sugar 
2 large eggs (room temperature)
2 tsp of pure vanilla extract
½ cup of buttermilk or ½ cup of plain or Greek yogurt
Instructions:
Preheat the oven to 350°F and line a cupcake/muffin pan with cupcake liners.
In a medium bowl, whisk together 1 ¼ cups of flour, 1 ¼ tsp baking powder, and ½ tsp of salt. Set flour mix aside.
In the bowl of an electric mixer, beat butter and sugar on medium-high speed for 5 minutes until thick and fluffy, scraping down the sides of the bowl as needed.
Add eggs one at a time, beating well with each addition then scrape down the bowl. Add 2 tsp vanilla and extract and beat to combine.
Reduce the mixer speed to medium and the flour mixture in thirds alternately with the buttermilk, mixing to incorporate with each addition. Scrape down the bowl as needed and beat until combined and smooth, and don't over mix. Divide the batter evenly into a 12-count lined muffin or cupcake pan, filling ⅔ full.
Bake for 20-23 minutes at 350 degrees Fahrenheit, or until a toothpick inserted in the center comes out clean. Let them cool in the pan for 5 minutes, then transfer to a wire rack and cool to room temperature before frosting.
 Frosting ingredients:
2 cups of heavy whipping cream (well chilled)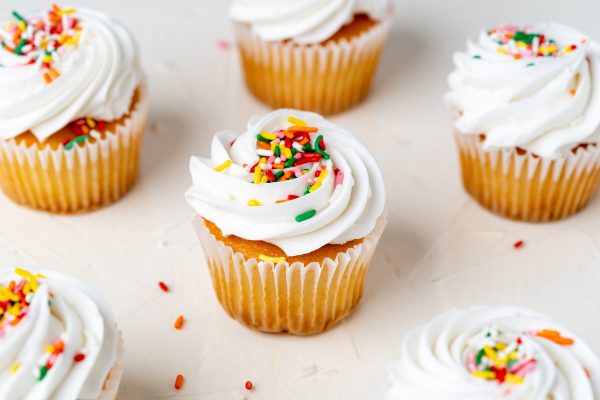 1 cup of powdered sugar
1 teaspoon of vanilla extract
Frosting Directions:
Using both a chilled bowl and chilled beaters, beat the cream until frothy.
Add the icing sugar and vanilla extract gradually while beating.
Whip until light and a thick enough consistency to spread as an icing.
Sources: