Swoosh! The TMS Basketball Team
Dribble, dribble, SWOOSH! The TMS basketball ball teams are coming back with some crazy action to get the school pumped up! There are 2 girl's teams, JV and varsity, and 2 boy's teams, JV and varsity. Varsity is for 7th and 8th graders, and JV is for 6th and 7th graders. But something crazy happened. A female 6th grader made varsity!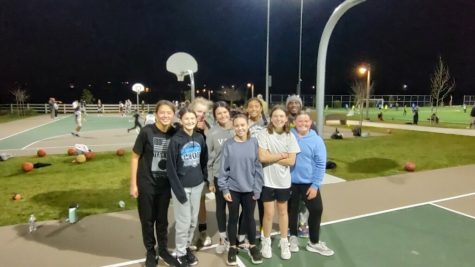 Sydney Owen
Sydney Owen is a 6th grader who is known for her crazy basketball skills. She beats 8th-grade boys at break and lunch. You should see it! Not only is she crazy good, but she is also the only 6th grader who made the varsity team! She is on both JV and varsity! Crazy right?
Sydney has been playing for 8 years and counting! She is on a team of 12 girls and the coach is Coach Hankins. Their practices are on Mondays and Wednesdays and they have games on Fridays. 
Here is an interview with Knox Leatherman and Beckett Aaron, both 6th graders on the boy's team. 
How long have you been doing basketball?
"7 years." (Knox Leatherman )
"5 years" (Beckett Aaron)
When did the season start?
"In March." (Knox Leatherman )
"March" ( Beckett Aaron)
How did you join the team?
"I went to tryouts." (Knox Leatherman )
"By doing good in tryouts" (Beckett Aaron)
The TMS basketball team is run by The Youth Basketball League. TBYL started in 1987 and they are a nonprofit organization. They have teams for all kids ages K-8. It is all run by volunteers!
Basketball is a super fun sport! There are many spots in Temecula that you can play at. Some great basketball courts are Pala Community Park, Patricia Birdsall Sports Park, Temeku Hills Park, and much more. Do you like playing basketball? Leave a comment!