The TMS Symphonic Band Concert!
That's right, ladies and gentlemen! The TMS Symphonic Band has arrived to play some beautiful tunes! The event took place on Wednesday, the 16th of November, and things are looking up for this group. Accompanied by our school's director, Mr. Aviles, all their hard work has been put into songs played just for us.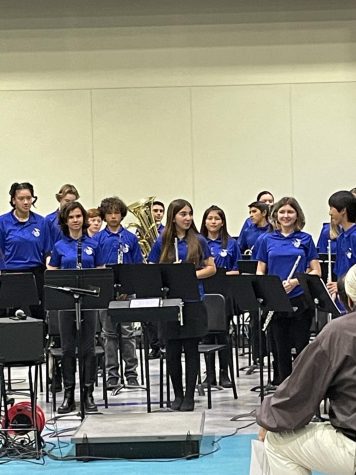 The concert was held in our own school's Multi-Purpose Room, doorways opened for the audience at 6:15 PM, where families and friends alike chose seats and could also purchase types of snacks and drinks. The excitement began at 6:30 PM, as each band student was getting warmed up. Songs like Bandology by Eric Osterling and selections from Encanto written by Lin-Manuel Miranda left the audience in awe. Until we were met with a surprise for this finishing song. 
Mixed between an electronic groove with the rise of the wind instruments, the impressive build-ups the Percussionists assisted with, and finishing it off strong! It's already looking uphill for this group, consisting of mainly 8th graders joining from Concert band, and some 7th graders tagging from Beginning Band. Although most students looked nervous, they've shown that they have what it takes to be a part of the crew. The path ahead looks bright for this group, and we hope to see more surprises in the future! Thanks for the show.