NFL Midseason Check
The NFL has been going on for twelve weeks now and a lot has changed since the first week. So many teams have dropped down from higher spots because of questionable losses. The best teams this season record-wise are the Vikings, Eagles, and Chiefs. The worst teams this season are the Texans, Raiders, and Bears. Some teams have also been a letdown like the defending super-bowl champion Rams. The Broncos have also been a letdown because Russell Wilson was supposed to be good this season but he has been terrible.
The first team is the Vikings. They have been unstoppable besides their game against the Eagles where they only put up seven points, not sure how the Eagles lost to the Commanders then. Justin Jefferson is having a fantastic season, his most exciting was against the Buffalo Bills.
Next on the list is the Eagles. They have a pretty high bar set because they are a part of the best division in football right now, there isn't much room for error. Although the Eagles don't have many outstanding well-known players they have been putting on a show. A.J. Brown is having a decent season but nothing too special. Jalen Hurts has one of the highest completion percentages in the league at 68.1%.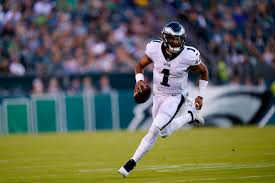 The last good team I'm going to talk about is the Chiefs. They lost some of their receiver depth with Tyreek Hill and Byron Pringle. Patrick Mahomes is in his sixth season and is having an amazing one, he is first in yards, touchdowns, and has the second-best quarterback rating in the NFL.

The biggest controversies this season was Deshaun Watson. Before the season started he got punished. He was suspended for only eleven weeks but Calvin Ridley bet on his own team and got suspended for the season. He won his first game against the Texans with a terrible stat line.

The two best divisions in the NFL are the AFC (American Football Conference)  and NFC (National Football Conference) East. In both divisions, all four teams have a winning record. Most likely both divisions will at least produce two playoff teams and most likely more.
Sources: ESPN