The New Percy Jackson
Percy Jackson and the Olympians a book by Rick Riordan has been a famous book series for nearly 20 years and with that, a sea of adaptations have been made.  Percy Jackson and the Olympians is about a boy named Percy who finds out he is a demigod and his father is actually a Greek God.  Zeus believes Percy has stolen his prized master bolt and Percy and his friends Annabeth and Grover have to find out who actually took it ad retrieve it.  Two Percy Jackson movies were created, and let's just say fans weren't impressed.  The musical adaptation of the first book also made its Broadway debut and fans were satisfied with it, but desperately wanted an on-screen adaptation of the beloved book series.  
Finally, in December 2020, it was announced that a greatly anticipated Percy Jackson and the Olympians show would be making its way onto Disney+ and fans were thrilled.  Rick Riordan told the fans about every detail of the show and gave updates on how the casting and writing process was going, but the most important aspect fans wanted to know couldn't be shared…until now.
"Who would play Percy Jackson?"  Was the biggest question about the show and Rick and his wife Becky were swarmed with questions about casting updates and information.  On April 11th, 2022, we got the news we have been waiting for for over a year.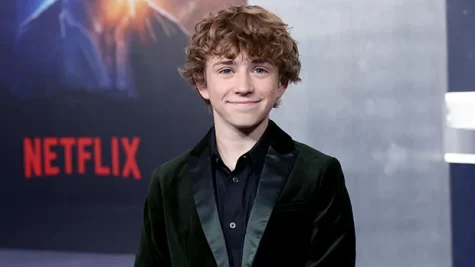 Walker Scobell is the new Percy Jackson! 
Known for playing young Adam in "The Adam Project" I believe that Walker Scobell is the perfect Percy.  He is humorous and energetic and has the comedic timing that will bring Percy Jackson to life.  He is also a massive fan of the books and even wore his Camp Half-Blood T-shirt without even knowing he got the part.  Fans were overjoyed with the casting decision and were finally at peace knowing they got their Percy Jackson at last.  
Former actors of Percy have been congratulating the 13-year-old. Chris McCarrell, the Percy actor in the musical wrote this kind tweet to Walker congratulating him on the role.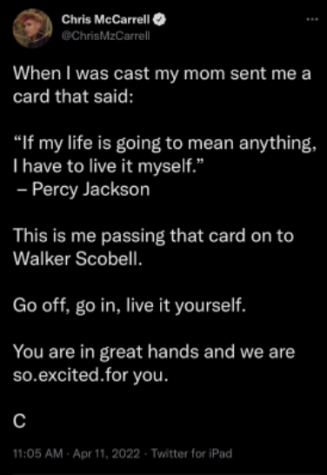 Fans have already started editing him with Percy's famous black hair and sea-green eyes, which many fans were annoyed that Walker was missing, but most of the time, actors change their appearance for the roles they get, Milly Bobby Brown even shaved her head for her role of Eleven in "Stranger Things".  
This is one of the edits of Walker as Percy: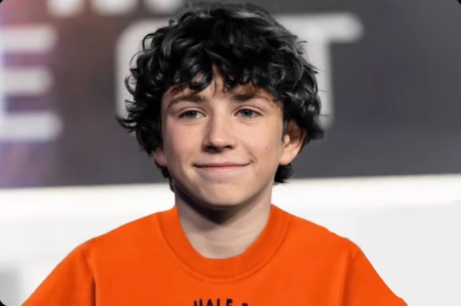 With Percy's actor being a huge success, we can only hope the same goes for the other main characters, Annabeth Chase and Grover Underwood.  Rick Riordan promises more news soon, and hopefully, we'll discover the amazingly talented actors who will be playing our favorite characters.
Are you excited for the new Percy Jackson show?  What do you think of Walker Scobell playing Percy? Tell me in the comments!