TMS Band Concert (and Video!)
By Johanna & Isabelle Marx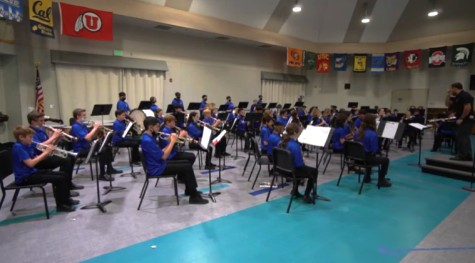 (Image Credit: Helen Ortega)
The Temecula Middle School Bands have been hard at work practicing for three different concerts! On February 22, the Symphonic band played at TVHS. The Concert Band played in the TMS multipurpose room on March 8th and on March 9th, the Beginning Band and Jazz Band are playing at TMS as well.
Also, congratulations to our band director, Mr. Aviles, for winning the 2021-22 Teacher of the Year at TMS! His leadership and dedication is what makes all these amazing performances possible.
Here is a video of Imperium*, performed by the Temecula Middle School concert band and some volunteers from the symphonic band on March 8, 2022. DropBox.com (Video credit: Helen Ortega) 
*(Music Copyright 1992 by Hal Leonard Publishing Corporation)
What's It Like To Be In The Band? 
By Isabelle Marx
Being in the band is a fun experience for everyone. You get to be with your friends while also getting to learn music. In band, there always seems to be at least one really fun song that everyone enjoys. Even though it takes time to get a music piece just right, it is worth it in the end. 
At the concerts, it's probably more fun playing in the band than listening because you know that you and the band have come this far and accomplished so much to get to that point, and you'll feel proud of yourself.
Are you in the band? Did you listen to any of these concerts? Tell us in the comments!
Source: