The Russian and Ukrainian War
In just the beginning of 2022, Russia and Ukraine had been planning to battle against each other. 
The Eastern part of Ukraine is where the war is planned to mainly take place partly because it is the border of both Russia and Ukraine. In the past, like in Russia's Annexation of Crimea from Ukraine in 2014, wars have taken place. 
Germany and France have tried to help along with some peace deals between Russia and Ukraine, which is known as the "Minsk agreements". Even though there have been periods of cease-fire in Donbas, Ukraine and Russia have accused each other of disobeying the terms of their deals and fighting has resumed. 
On Tuesday, February 22, Putian said to reporters "the Minsk agreements were dead long before yesterday's [Monday's] recognition of the people's republics", which then he blamed Kyiv for their failure. And on Thursday the 24th, Putin claimed that it was a "Special Military Operation".  
By the afternoon in Ukraine, Russia had sent troops and tanks into the country on three fronts and dozens of Ukraine had died because of the conflict, according to the local reports. While this is happening, Putin is redrawing the European map that could lead to more conflict on the continent since World War 2 and because of Putin's plan, many people could flee Ukraine because of the violence that is being created by the Russian president.
A Ukrainian police officer stands in front of a damaged residential block hit by an early morning missile strike on February 25, 2022, in Kyiv, Ukraine. (Chris McGrath/Getty Images)
As Russia is attacking Ukraine, Europe is doing everything they can to help Ukraine while also ending all relations with Russia, while the US is trying to cut off Russia's economic system. Western Europe had known that Russia had been planning to attack, so it didn't shock people about Russia's actions. 
Even though the US wants to help Ukraine, they will not send troops but will send them hundreds of millions of dollars worth of weapons. And on March 1st, President Joe Biden said in The State Of The Union that the US teamed up with 30 other countries to help Ukraine. 
As of February 28, more than 5000 people in Ukraine have died from Russia which was only the 5th day of the war. On Sunday the 27th, reports said that 14 children had died since Russia's invasion began.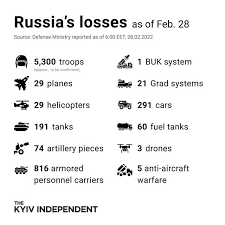 What do you think about the Russian and Ukrainian War? Tell us in the comments.
Website(s) used: