Jonathan the Tortoise is How Old?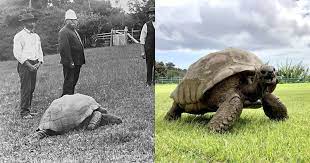 Jonathan the tortoise is a living animal, but he isn't like any other because he is known as the oldest land animal in the world so far.
1,000 miles off the coast of Africa, the island of St Helena is where the 440-pound tortoise lives. People estimate that he is about 190 years old and is the oldest land animal.
Jonathan was estimated to be born in 1832 and arrived in St Helena in 1882 when he was considered "full-grown". In a tortoises life, they are considered an adult when they are at least 50 years old. Jonathan came from an archipelagic island country called Seychelles.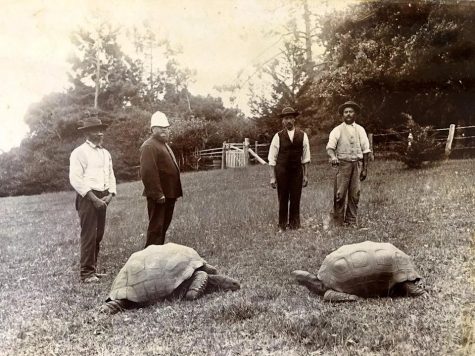 Picture in the late 1800s. Jonathan is on the left with another turtle on the right.
The tortoise has lived through 31 of St Helena's governors and 40 out of 46 US presidents' inaugurations. While giant land tortoises mainly live up to 150 years, Jonathan has survived longer than anyone expected.
The previous known record for the longest living land animal was a tortoise named Tu'i Malila. According to the Guinness World records, she died in 1965, which means she lived for about 188 years.
Now Jonathan is blind and has lost his sense of smell, but he still maintains a good diet. For more than a decade, he has been hand-fed carrots, cucumbers, apples, and bananas.  His feeders had to wear thick welder gloves to protect their hands from Jonathan's sharp beak.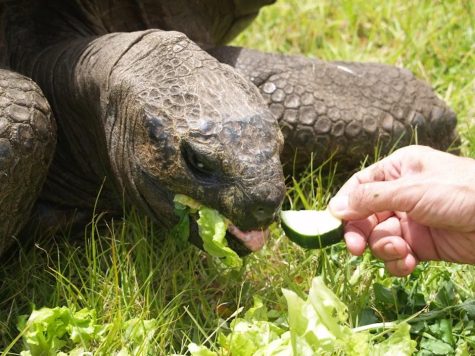 Jonathan snacking on lettuce and cucumbers
Sometimes, Jonathan has been reported dead by lying on his back with all four legs and his neck stretched out. His care workers would rush over to him, but it would turn out that he was still alive. 
As you can see, Jonathan has outlived so many people and he should be rewarded so much for just being able to live so long. As of right now, St Helena is planning to make a holiday for Jonathan in 2022, says Joe Hollins, Jonathan's caretaker.
Website used: